Botulinum Toxin Type A



On September 10, 2001 Health Canada approved Botox® (Botulinum Toxin Type A) for axillary HH, thus giving new hope for people who after failing to respond to topical treatments were compelled to face surgery.

The technique is quite simple: the physician identifies the hyperactive sweat area or areas with Minor's Starch Iodine test and then, 10 to 15 sites, approximately 2 cm apart, are injected into each axilla. This procedure used to be more painful when Botulinum toxin A was reconstituted in saline devoid of preservative.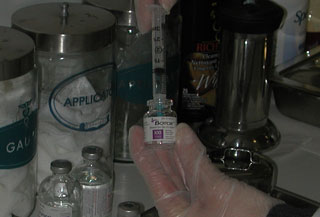 Recent studies have proven that Botox reconstituted in saline containing preservative, like benzyl alcohol, the injections were much less painful. The whole procedure may take about 20 minutes including the Botox preparation. Botox acts by blocking acetyl choline release at the nerve endings that stimulate the sweat glands thus shutting down the sweat process on the injected sites like the armpits, hands or feet.