On the feet
HH represents a favourite medium to trigger a host of dermatological diseases such as : pitted keratolysis, bromhidrosis, tinea pedis, eczema, dyshidrotic eczema (pompholyx), contact dermatitis, friction blisters, warts, frostbites in skiers and outside workers in sub zero temperatures, soft calluses between the 4th and 5th toes and even ingrown nails. On the other hand, shoes will be burnt and destroyed by the sweat at an accelerated rate.
There has been a case report where combined Gram negative and fungal infections on the feet have resisted intravenous antibiotics in the presence of HH.
On the hands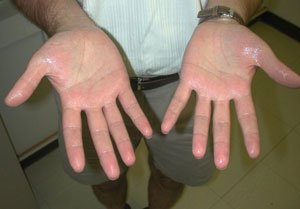 HH can stain books and papers, makes the fingers slippery on computer keyboards and even prevents us from playing our favourite sports like baseball golf or tennis. Slippery hands can easily drop objects and manual work becomes difficult and prone to injury because of the difficulty in holding instruments safely. People with sweaty palms will not qualify for certain jobs like hairdressing or healthcare. A moist and cold handshake will not inspire confidence in a job interview. Other jobs like working in a cafeteria or a bakery will be difficult. HH may even disable mucisians. Politicians and speakers who sweat will have a hard time to convey their message to their audience because sweat conveys anxiety and lack of confidence if not incompetence.